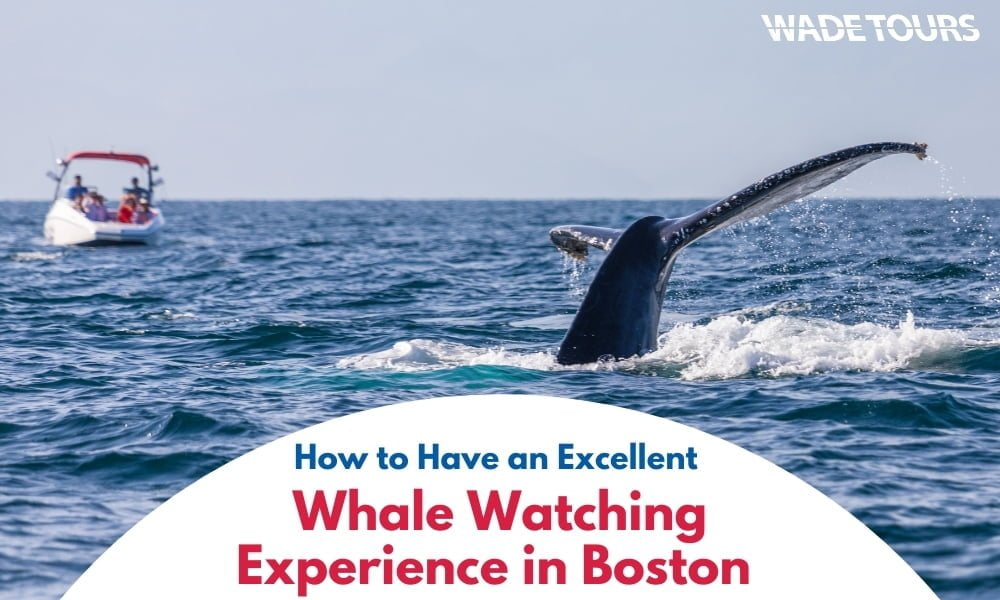 Did you know that Wade Tours books many whale watching experiences in Boston?  Our day trips offer busses to and from the Capital Region of New York to Boston.  Here you will board a boat for a 3 and a half hour cruise to see some of the most amazing creatures in the Atlantic… whales!  Our whale watches guarantee you will have whale sightings, and each trip is narrated by certified New England Aquarium naturalists.
Going on a whale watch can be a trip of a lifetime!  However, you want to follow some steps to ensure you have the best experience on your whale watch.  With years of experience running tours like these, we've put together a list of ways to get the most out of this experience.
Here's our top tips on 'How to Have an Excellent Whale watching Experience in Boston.'
Go During the Whale Watching Peak Seasons
Depending on where you go whale watching, there's a certain time of year that's best for spotting

the whales

. 

 




 


In Boston, the season runs from May-October.  This is also the best time for not having to stand out in the freezing cold weather!  During this season in Boston, you may see Humpback whales, Finback whales, Minke whales, and even white-sided dolphins.
You never know what kind of 

w

eather you will run into.  In New England, it can go from sunny to pouring rain in a matter of minutes! Pack a backpack with things you may need just in case. 

 




 
Here's a list of some of our recommendations for what to pack for your whale watching tour:



Sunglasses

Raincoat

 




Light sweatshirt

 




Hat

 




Sunscreen

 




Comfortable clothes

 




Snacks

 




Water

 




Camera

 

 
Note: Many whale watching experiences in Boston will have food and beverage available for purchase on the boat if you forget snacks and water.
Pick the Brains of the Crew
The crew aren't just there to follow safety guidelines and drive the boat, they also have a lot of knowledge about the animals!

 




 




Our whale watching tours all have a certified New England Aquarium Naturalists on board.  They have studied every breed of whale, their habitat, how much they weigh, and what they eat.  Feel free to ask them any questions!  They are so knowledgeable about these 

creatures,

 you will be sure to learn so much from them.
Find a Balance Between Living in the Moment and Being Camera Ready
It's great to go home with pictures to share.  Everyone wants that perfect shot of the whale's tail out of the water!  If you want a great picture, you have to be ready to snap the photo quickly.

 




 




However, it's important to live in the moment and put down your phone some of the time as well.  It's not every day you will be sailing next to a humpback whale in the wild!  Make sure to see the experience with your own eyes and not just through the lens of your phone screen.
Whales

 behavior can sometimes be unpredictable.  However, having experts on board, they will have all the best tips for making sure you get the most out of your whale watching experience.  In fact, our tours guarantee you will see whales on them!

 




 




Tip:  With humpback whales, they tend to average 3-8 minutes of downtime under the water.  So be patient and you should see them rise to the surface after that timeframe!
Be smart and keep your hands, feet, and legs on board at all times.  You may not pet the whales or swim with them.  These are wild whales, and the purpose of whale watching tours is to "watch" them.  This is for both your own safety and the well being of the whales as well.
Don't forget, you are not in a zoo.  These whales are from the wild, and it's best to keep it that way!  The last thing we want is for the whales to become
dependent
 on 
feedings
from the tour groups.
Do Some Research Ahead of Time
Knowing some fun facts about the different 
type
of whales you may see can make your experience more fun!  When you spot a whale and know exactly the species is, you'll feel like an expert yourself.
When keeping these tips in mind, you will be sure to get to have the best whale watching experience in Boston! 
Time to cross that item of your bucket list!
Like we mentioned before,  all our whale watches guarantee you will have whale sightings, and is narrated by certified New England Aquarium naturalists.  We hope you have the most fantastic time admiring these incredible creatures!