History of Wade Tours in Schenectady, NY
From the beginning, under the name of Wade-Schoharie Valley Line, was a major line-run owned by Edwin L. Wade. He transported people and packages from Schenectady to Middleburg, a 120-mile round-trip run from the back of a 1926 Studebaker.
Then in 1932, Arnold E. Wade, son of Edwin, assumed sole ownership and the line-run was extended to Grand Gorge, New York.
By 1940, Arnold and his wife, Mildred, now had three coaches and named the company Wade Charter Coaches, starting charters and tours to 11 Eastern States and the District of Columbia. This gave them the push they needed to build a garage on Helderberg Avenue in Schenectady, NY, moving from the back yard of their home on O'Neil Street from around the corner.
During World War II, business was booming due to the rationing of gas and by the 1950's, Wade Charter Coaches had the largest fleet ever, with 36 coaches.
Arnold and Mildred retired in 1963, turning over ownership of the business with their blessings to their son Robert and his wife, Audrey. Just about this time the World's Fair was in New York City, giving Robert and Audrey the opportunity to purchase new coaches, keeping up with the tremendous advances in modern mechanical technology, making travel a much more sophisticated experience.
With more people seeing the advantage in motor coach travel, it was necessary for more office space and ample parking for customers, so we built a new terminal, located at 797 Burdeck St. in Schenectady and changed our name to Wade Tours, Inc., Inc. This was in 1980, right at the start of the Winter Olympics in Lake Placid, which was a very busy time for Wades, running over 160 escorted trips, in 12 days. It was a challenging experience to see how the four children of Robert and Audrey would work together. And the rest is history!
Today, over 90 years later, the four great-grandchildren of Edwin L Wade serve the Capital District with the best in Motor Coach Travel, offering exciting destinations and outstanding customer relations.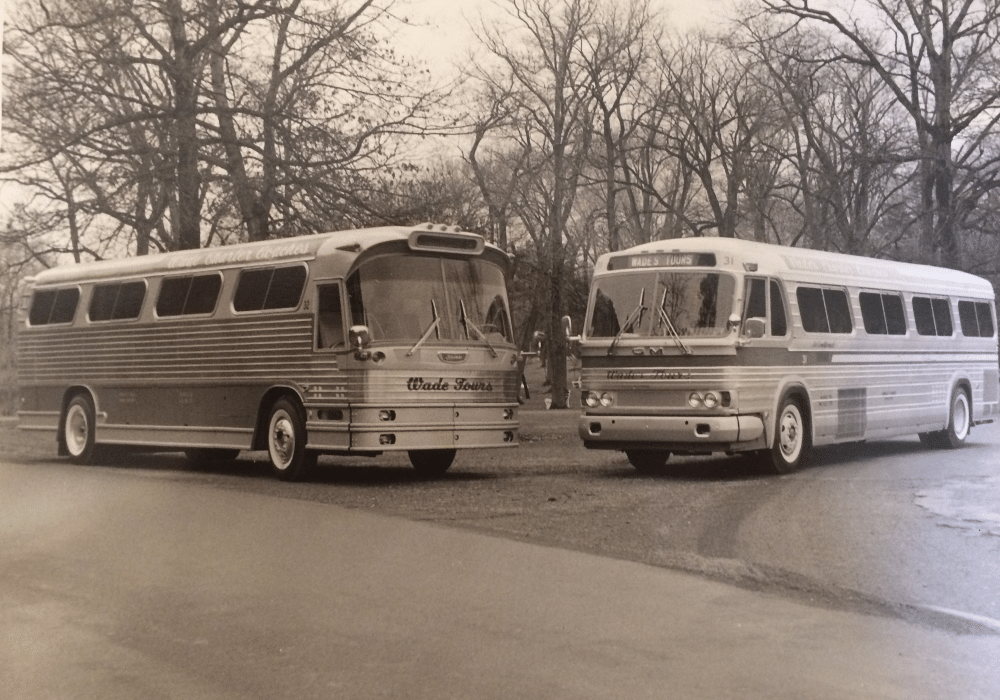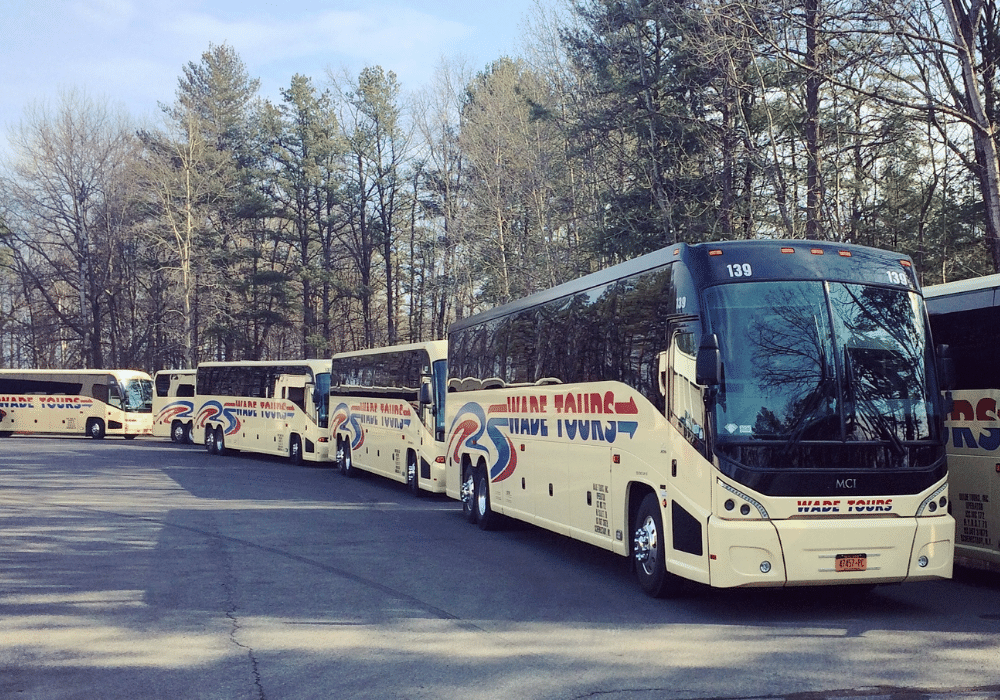 Now in its 96th year, Wade Tours leans on tradition
of putting passengers at ease.
Back in the 1960s, when Crystal DeLorenzo was a girl, she learned about the tour-bus business from her grandma.
"I can remember her sitting at her table in the dining room writing out penny postcards to all her customers," DeLorenzo says.
Using the initials of her name, Mildred Wade launched Merry Wanderers bus tours, an addition to the Wade family's already booming business with charter coaches traveling all over the East.
The company started in 1926 when Mildred's husband, Arnold Wade, and her father-in-law, Edwin Wade, carried passengers and delivered packages on a Schenectady/Schoharie County route using Edwin's Studebaker.
Each night, before a Merry Wanderers tour, Mildred would bake pies or cookies for her passengers.
"She said to me: 'Crystal, you just have to make people feel at home and comfortable, and they'll go anywhere with you.' " It's a lesson DeLorenzo, president of travel operations at Wade Tours Inc., has never forgotten.
In 2022, Wade is marking its 96th year, and just about every day people are rolling along in a Wade Tours luxury motor coach, perhaps on a private charter for a wedding, ski trip or school outing, or maybe on a day trip to a Connecticut casino, New York City or Boston.
"The secret to success is bringing joy to others," says DeLorenzo, the last of the fourth generation to run the family business. The fifth generation is already on the job, as her son Gregory DeLorenzo is CEO and her daughter, Deanna Nardini, is in customer service.
Crystal's grandchildren, the sixth generation, enjoy taking trips and are already talking about the day when they will be running the business.
While private charters are 75% of the business and tours are 25%, Wade is a full-service travel agency that's probably best known for its day and overnight adventures around the Northeast, to the West and even to Europe.
Scheduled through December, the online catalog of bus trips is vast and varied, with excursions such as Walking the Brooklyn Bridge, the Mermaid Parade in Coney Island, the Finger Lakes Wine Festival, NASCAR at Watkins Glens and antiquing in Madison County.
"Our one-day tours are very, very popular," DeLorenzo says. Casino outings in New York state and Connecticut are customers' top picks. "The short getaways are popular, going to New England states, and then down to Pennsylvania, to Lancaster and the countryside," she adds.
This year there's a 17-day adventure in Wyoming and a 13-day guided tour in Ireland.
Many customers are senior citizens and retired folks. They love to travel but prefer to let someone else do the driving, and they enjoy socializing and sightseeing with a group.
Because Wade Tours is people-oriented, the COVID pandemic was devastating. In 2020, the virus forced the business to shut down for six months, a historic first. "We took all of our coaches off the road," DeLorenzo says. "We had to let all of our employees go. There was one person up front just taking cancellations and refunds. It was depressing."
When Wade started up again there were new regulations to comply with. All 30 coaches were modified with a filtration system to clean the inside air. When coaches come off the road, a fogging machine goes aboard and stays inside all night. "The drivers are all vaccinated," DeLorenzo says. "We haven't had one of our employees come down with COVID while out on the road. We haven't had any of our tour guests come down with COVID."
Passengers must wear masks to get on the coach, but once they are in their seats they can take them off. "We don't sit anyone with someone who is not their companion. If someone is a single, they have the whole seat to themselves," DeLorenzo says.
But business was slow in 2021, she adds. "People were afraid." In 2022, the company is moving forward while still dealing with the unknown. "The challenge is making sure that we can get into places and attractions. … Our prices have gone up slightly because of fuel and salaries."
Even pre-pandemic, the touring part of the business was changing, DeLorenzo says. "We used to do a 30-day trip. It was our hallmark trip. Every year. Sometimes two buses would go. That's gone by the wayside. People don't have that much time. A lot of people ask, 'Is the economy hurting you?' And I'd say it's not hurting as much as time. People just have other obligations. We're not taking time out to enjoy life."
Wade is always reaching out to younger generations. "We do a lot of family trips, to the Bronx Zoo, to the Aquarium in Boston. We do the New York State Fair, we do The Big E in Springfield."
DeLorenzo, who has an upbeat attitude and cheerful voice, polished her people skills in 1980 when she was a tour guide on buses going to and from the Winter Olympics in Lake Placid. Wade had the contract for the games and had 50 coaches in service. "For people who were staying in the Capital District, we had to go to the hotels, pick them up and get them up there. It was very interesting, with people from all over the world."
DeLorenzo, who grew up above her grandparents' old bus garage on Helderberg Avenue (a new garage and office on Burdeck Street was built in 1980), says that when she was a girl she and her siblings were allowed to join tours with Grandma Mildred, but they had to sit still and not disturb the passengers. "Oh, do I have stories to tell," she says. In the coming months, DeLorenzo will be digging up those stories and unearthing Wade Tours memorabilia as she gets ready for the company's 100th anniversary, which is four years from now, in 2026.
"We haven't decided what to do yet," she says. "But we want a big celebration. We want to honor our loyal customers. We wouldn't be here without them."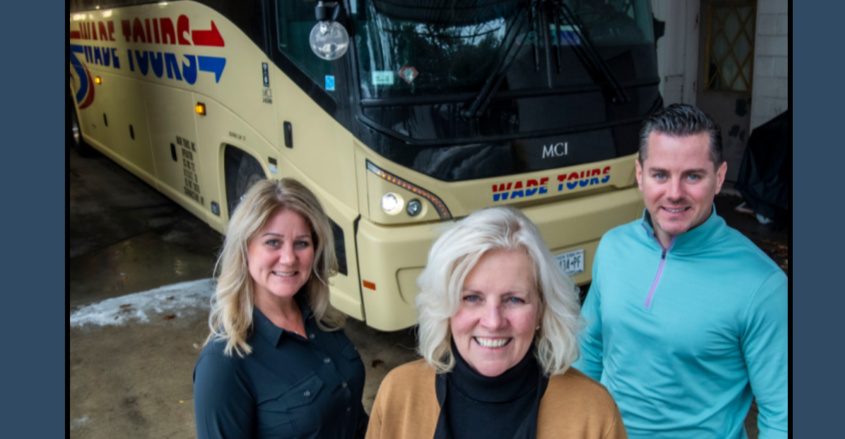 Deanna Nardini, from left, Crystal DeLorenzo and Gregory DeLorenzo pose for a photo in front of one of 30 buses owned and operated by Wade Tours.