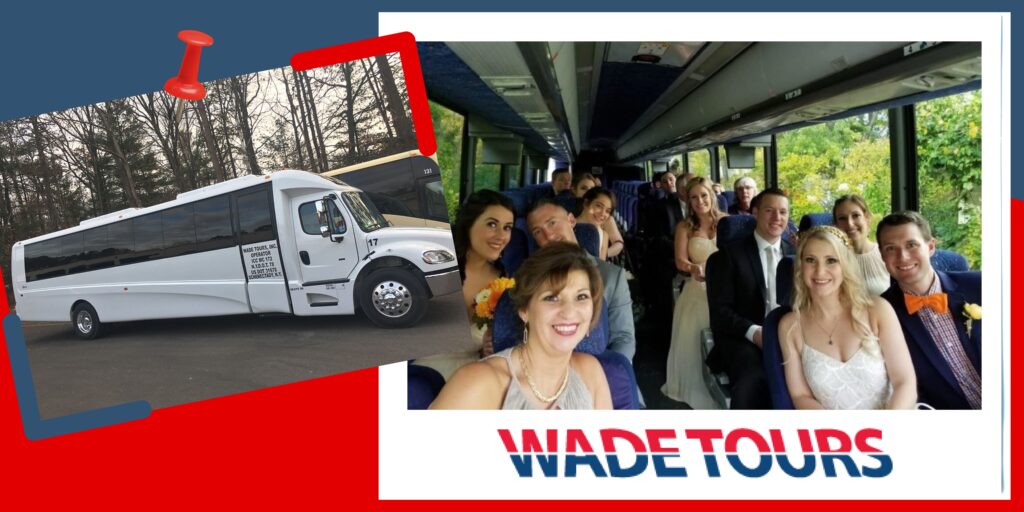 We know that the wedding planning process can be overwhelming at times.  There's a lot that goes into booking your wedding transportation, and you want to be sure you hire someone you can trust.  That's where Wade Tours comes in! 

Here are 10 essential tips you want to consider when booking your wedding transportation.  Wade Tours would love to be a part of your big da!
 

Book as Early in Advance as Possible


Many transportation companies take on more than just weddings.  For this reason alone, it is important to book wedding transportation needs as soon as the details come together.   

It's recommended to book wedding transportation four to eight months before the wedding date to ensure availability.  However, you should think about booking even further in advance for Saturday's or special holiday weekends.  These dates tend to book up faster! 

Consider Every Event and Person you Need Transportation for


Unfortunately, booking wedding transportation isn't one quick purchase.  You really need to consider every person, time, or event you need transportation for.   
 
Who should you book transportation for? 

This entirely depends on your budget and needs, but here are some people you should consider booking transportation for on the big day: 
-Bride and groom 
-Parents of the bride and groom 
-Bridal party 
-Wedding guests 
-Important family members  
  
What events do you need transportation for?  

Besides the wedding itself, consider if you will also need transportation for other events such as the rehearsal dinner, brunch the next day, or even to the airport for the honeymoon.   


Have All Details Sorted Before Contacting Transportation Companies 


Knowing exactly what you will need will allow the transportation company to give you options of vehicles and accurate pricing.  Without this information it can be difficult to book. 

Be Sure to Book Big Enough Vehicles


Booking small, cramped vehicles can make your ride a less than pleasant experience.  Make sure your transportation can accommodate more than the amount of people needed.  This way you can ensure all guests can ride comfortably.  

Know What the Price Includes 


Always read every detail of your contract before booking wedding transportation.  Know what is and is not included in the total cost before you sign on the dotted line.  This will help avoid any surprises later down the road.    
  
Things to consider: 

-Is gratuity included in the contract? 
-Are there waiting time fees? 
-Who pays for the cost of parking? 
-Are the services charged hourly or by the day? 
-Is there a cleaning fee? 

Hire Professionals


Hiring professional companies will make your wedding planning much easier in the long run.  Having a company with experience in wedding transportation means they are aware of the process and importance of the wedding day timeline!  Not to mention, their drivers have more experience, and their vehicles are maintained, making professional companies a safe priority for all your loved ones! 

Contact Wade Tours today to book your wedding transportation.

Communication is Key 


Communication with your guests, transportation company, bridal party and wedding planner are all essential.  Make sure everyone is aware of the timeline, pick up locations and wedding ceremony time.   

Make Sure Your Guests Know About Your Transportation Plans 


If you are offering transportation for your guests, make sure they are aware!  You can do this by creating a fact sheet on your wedding website or including information on your wedding invitations. 

Information you should include: 

-pick up times 
-addresses 
-name of the transportation company   
-wedding ceremony start time 
  
Think about sending out a reminder a week or so before the wedding day.  Sometimes these details can be overlooked by guests until the day gets closer.  Making sure everyone is aware of these services will save you lots of phone calls closer to the wedding day! 

Create a Timeline 


Have a timeline figured out for all your transportation and be sure to add a buffer.  This means telling the guests a time earlier than when the bus departs to ensure everyone makes it there on time.  Also, account for some traffic time.  (Don't assume the ride will take the exact time the directions Google tells you.) 

Follow Up Before the Big Day


Make sure you and your transportation company are on the same page before the wedding day.  Go through timelines, addresses, and any other important information.  Be sure to get the driver names and contact info 24-48 hours before the wedding day just in case they need to be contacted the day of.  It's recommended to give this information to a wedding planner or make someone your point of contact, so the bride and groom won't have to worry about logistics the day of the event. 
Now that you have these 10 essential tips for booking wedding transportation, you and your guests will only have to worry about is dancing the night away! Don't forget to book with Wade Tours for an efficient, well organized and safe experience.
Contact Wade Tours to book your wedding transportation today!

Phone:
518-355-4942
E-mail:
reservationist@wadetours.com